Something I Did Not Know …
on
November 30, 2012
at
10:42 am
Most Points Scored in an NCAA Football Game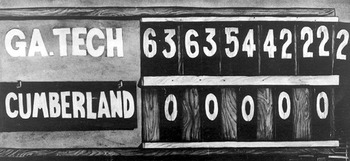 Few words can accurately describe the kind of waxing Georgia Tech's football team laid on Cumberland College in 1916.
The highest scoring game in NCAA history, a 220-0 Georgia demolition derby, was an event Cumberland tried its hardest to avoid. The smaller Tennessee college had no intention to play football in general, and had disbanded its football team earlier in the year.
But Cumberland forget to alert Georgia Tech of its plans to cancel and were held contractually liable to play in the contest.
Faced with paying a $3,000 forfeiture fine, Cumberland decided to sack-up and send a "14 man team" (read: blood offering) made up of frat guys and whoever else was around to square off against the powerhouse Georgia Tech squad.
What ensued was less of game and more of a napalming. Little did Cumberland know, but Georgia Tech's head coach Joe Heisman was out for blood—holding a grudge over the 22-0 drubbing Cumberland's baseball team had levied on Tech the prior year. Heisman flicked the kill-switch from the first second of the game, and ordered his team to lay down the hammer the entire time.
Georgia Tech pounded Cumberland College like a steel drum – ripping off 978 rushing yards and not allowing Cumberland a single first down.
Hopefully mankind will never see the likes of this kind of game again.